Our officer team leads the Ohio Federation of Soil and Water Conservation Districts in various capacities.  We have a team of 5 from around the state.  The positions include Past President, President, First Vice President, Second Vice President and Secretary-Treasurer. 
OFSWCD OFFICER TEAM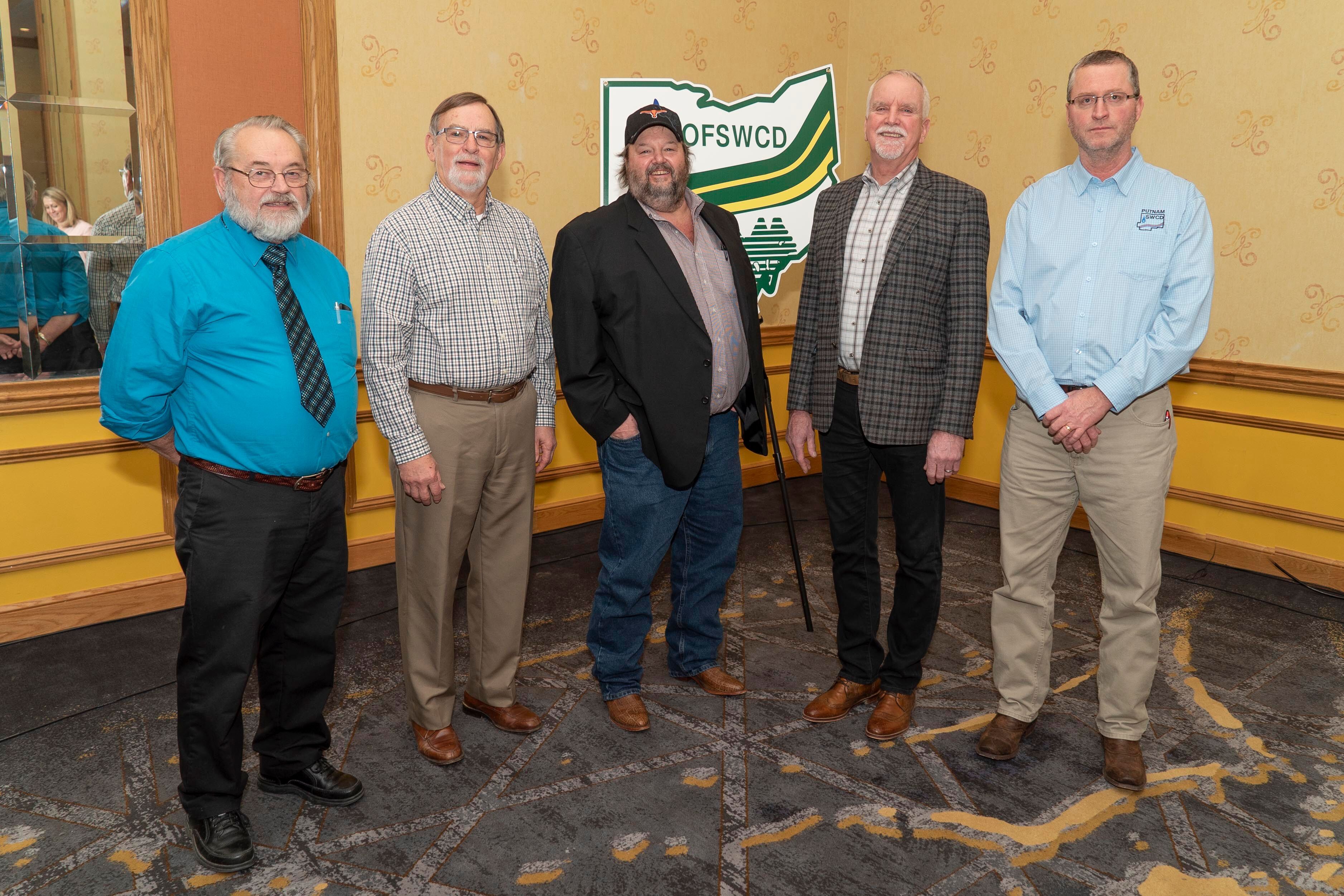 Officers: (From left to right)  Harold Neuenschwander - Past President, David Anspach - Secretary/Treasurer, Bob Short - President, Matt Peart - First Vice President, Jeff Duling -Second Vice President
Bob Short, President

Bob Short serves as President for the OFSWCD. Bob is a Supervisor for the Williams SWCD and is an active farmer. Bob also serves his community as a volunteer firefighter and township trustee.

Matt Peart, First Vice President

Matt Peart is serving as First Vice President. Matt is a Supervisor for Wayne SWCD and is an organic farmer. Matt serves as the OFSWCD Delegate to the National Association of Conservation Districts (NACD) and serves on various committees for our national organization.

Jeff Duling, Second Vice President

Jeff is serving as Second Vice President. Jeff is a supervisor for the Putnam SWCD. He manages the family farm, that is involved in grain, swine, cattle, custom farming and trucking. Jeff is also a partner in a farm drainage and excavating business.

Harold Neuenschwander, Past President

Harold is serving as the Past President of the OFSWCD. He is a Supervisor for Holmes SWCD and is owner/operator of Harold's Equipment, a manure management equipment business. Harold has a heart for leadership and leadership development.

David Anspach, Secretary - Treasurer

David is serving as the Secretary-Treasurer of the OFSWCD. He worked for Clermont SWCD in the early 1990's when he served as the District Administrator for 7 years. He currently serves as a supervisor for Clermont SWCD. He is retired and lives on the family farm. David also serves as a Clermont County Park commissioner.
OFSWCD Directors
The OFSWCD Board of Directors consists of the 5 Officers and 25 Supervisors.  For our organization, the state is broken into 5 service areas and within each service area, 5 Supervisors are elected to serve on the OFSWCD Board.  All members of the Board serve his or her county, his or her designated Area and assist the OFSWCD on Statewide initiatives. 
OFSWCD Staff